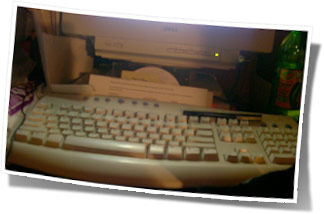 I don't remember when I first heard about Linux, or even Unix, but I do know it was a long time ago. My first impression was that Unix was an OS for mainframes and comp. sci majors. When I learned that it was capable of multitasking and running a GUI, my brain nearly fell out. Years later, when I learned of Linux, I got basically the same impression—it seemed like trying to run a mainframe OS on a little desktop box.
At a time when I was spending countless hours of my life endlessly tweaking my Amiga and whatever crap PC I had on hand, or trying to devise the perfect partition/directory structure, spending 3 hours compiling something just to get the machine to boot up seemed like a colossal waste of time. As time went on, the idea of Linux as desktop OS was becoming less ridiculous, but there still seemed to be a giant learning curve. It was hard enough keeping Amiga and DOS cli commands and syntaxes straight, much less learning an entirely new one!
A few years ago, I finally got a Macbook at work, running OS X, which is Unix based. As I learned more about the Mac—and kept running into brick walls of broken or missing functionality—I started to dig into the command-line. I got a little more comfortable with it as time went on, to the point where I was seriously considering a personal switch to OS X, and finally ridding myself of an unfortunate dependence on Windows.