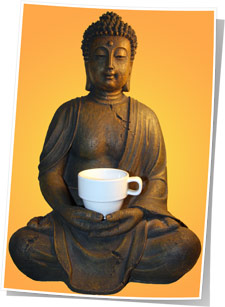 When I discovered Buddhism, what I found was a philosophy and set of teachings that coincided with my own thoughts and feelings about the world better, in many ways, than the brand of Christianity in which I'd been raised. Certainly, there are parts of the engendered faith of my childhood that I still agree and identify with, parts that give me comfort, and parts that ground me in my skin. But the endemic faith of my adulthood has been informed by my belief that it is in the convergent points between various world philosophies and religions that any true religion most likely lies. A common refrain of mine is that in every reasonable philosophy or religion, there surely exist some nuggets of truth. It is in the context of these two beliefs that my own philosophical, spiritual, and religious pursuits have been grounded.
Buddhism's Appeal
My initial introduction to Buddhism—and to eastern thought in general—revealed a philosophy based on tolerance, inclusion, compassion, respect, wisdom, with a strong leaning towards self-understanding and self-improvement. These are things that I believed were also central to Christian teaching, but which I felt were almost unilaterally missing from the Christian religious community.
As I learned more about its philosophy and teachings, and particularly about meditation, my interest in Buddhism as a practice grew. The life of a spiritual comtemplative holds some appeal to me, but I would never be able to remove myself from the world enough to become a monk. Meditative practice, like prayer, seems to offer some window into that world without making life-changing sacrifices or an ascetic commitment. Also, it seems that meditation can offer something that prayer generally cannot—an opportunity to explore not just your relationship with God, but your relationship with yourself.
These things mean that Buddhism—both as a practice and as a philosophy—appeals to me very greatly. Unfortunately, Buddhism isn't exclusively a practice, or a philosophy.