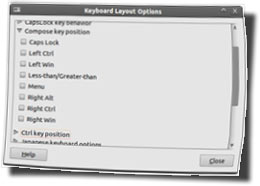 Though I've long known of the Windows Alt- and Mac Option-key codes for producing extended characters, I've only recently discovered a couple different shortcuts that allow the same thing under Linux.
A discussion at Daily Writing Tips about em-dashes, specifically regarding when to use them, spun in the direction of how to produce em-dash characters.
The immediate and obvious suggestion was to rely on word processors' automatic character replacement—which generally involves swapping out two minus signs for "—" as-you-type. It was also pointed out, however, that there are specific key sequences you can use within different OSes to produce these characters without benefit of a word processor.