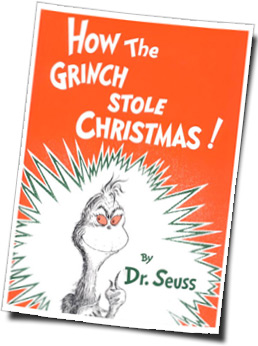 You're a mean one, Mr. Grinch.
This one is a childhood favorite of, I believe, just about everyone. For a project that involves reading favorite kids books as a Christmas present, how could I NOT read "How the Grinch Stole Christmas?"
In case you are, by some miracle of complete cultural isolation, unfamiliar with the story, here's how it goes:
Somewhere in the mountains above a little town, wherein live hundreds of tiny, cute, and annoyingly happy people, rages a big green monster-like thing with a heart condition, hypersensitive hearing, and a history of mental illness and physical abuse. One day the noise from the town is too much to bear, and this Grinch snaps. Rather than taking his revenge on the town by hacking them all to bits with an axe, he instead embarks on a long night of home invasion, grand theft, destruction of property, and terrorizing small children. Having been thus deprived of peace and property, the townsfolk get together and send a carefully constructed series of psycho-acoustic signals up into the mountains, intent on either exploding the Grinch's heart, or driving him off a cliff. Because of the peculiar reflections and refractions of the sound waves through the snow-covered mountain hollows to the Grinch, the wave instead cures his heart condition and his mental illness, upon which point he returns their property, and joins them in a rousing chorus of Row, Row, Row Your Boat, 99 Bottles of Beer, or some such nonsense. He also offers to pay for Cindy-lou Who's extensive psychotherapy.
But seriously, it's a great little story, and was lots of fun to read. Hope you enjoy listening to it, as much as I enjoyed recording it.
Audio clip: Adobe Flash Player (version 9 or above) is required to play this audio clip. Download the latest version here. You also need to have JavaScript enabled in your browser.
Podcast: Download